August 19, 2023
Victoria Park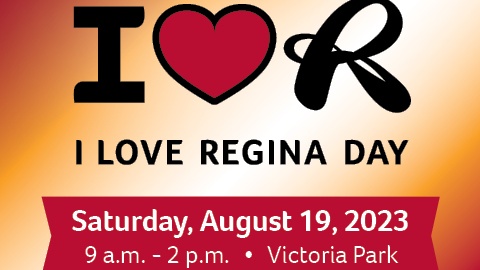 Join in the fun to celebrate I Love Regina Day! Enjoy a day in Victoria Park to check out our community exhibitors, grab a burger, watch some fabulous performances, and learn about what Regina has to offer! This is a free event and all are welcome!
Follow us on Facebook and share the event page for event updates, exciting news, and more to come!
2023 Event Information
Event Schedule
8:30 a.m. - I Love Regina Run & Walk starts!
9 a.m.
Exhibitors and Children's activities begin

Summer in the Square with Regina Downtown BID
10:30 a.m.
Program begins on the Plaza stage with live local entertainment

Face Painting in Victoria Park
Free treats and give-aways
11 a.m. to 1 p.m. - Free BBQ – while quantities last
2 p.m. - Event ends
What is I Love Regina?
Initiated in 2002 and driven by the Mayor's Office, I Love Regina is based on the successful I Love New York campaign and was intended to shift residents' attitudes towards our community and improve our city's image. In its 20 years, I Love Regina has made great strides in improving our image locally and across the country.
Features of this year's event include free BBQ, treats and give-aways, live entertainment, Community exhibitors, children's activities, and much more!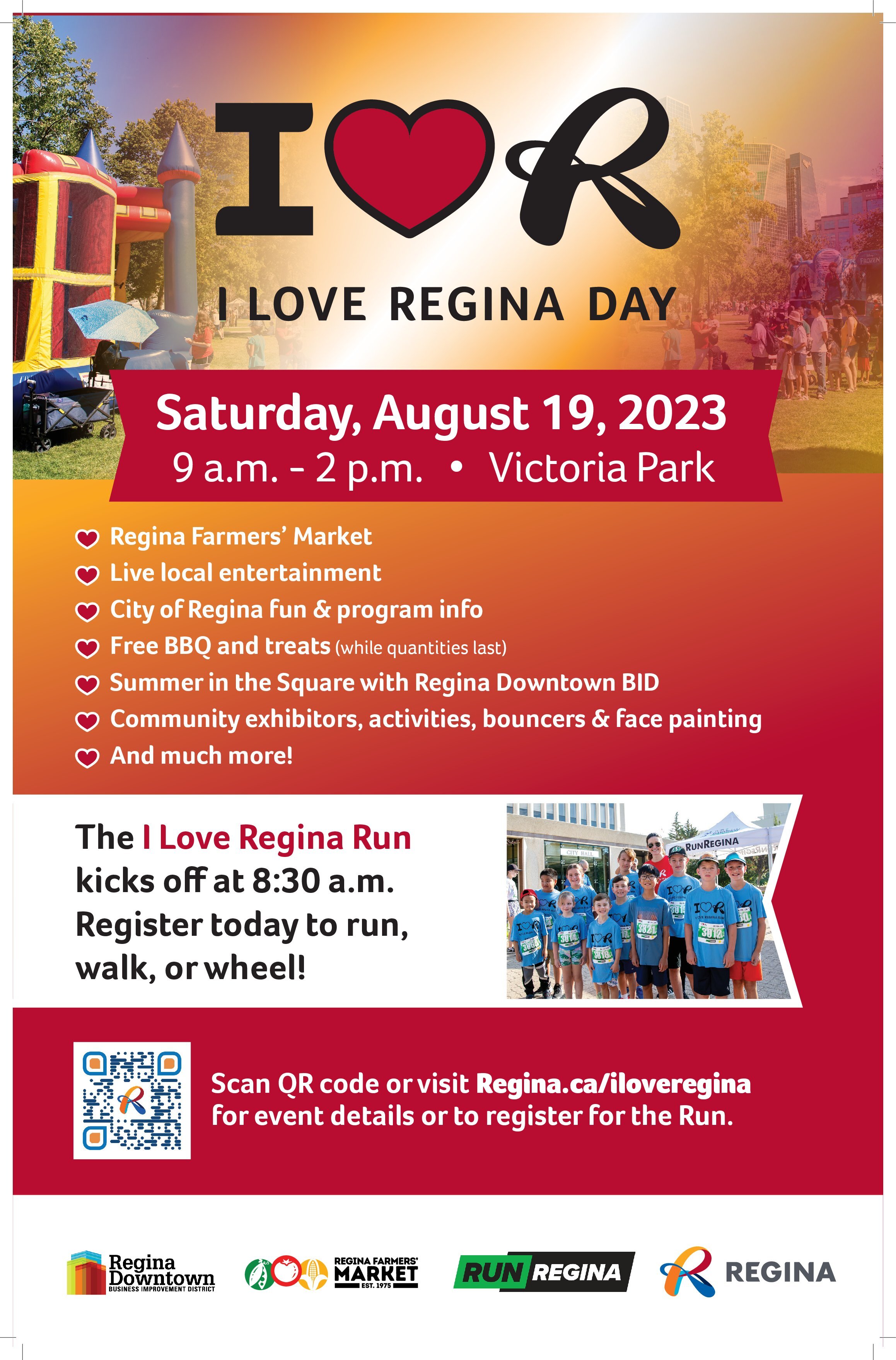 Know Before You Go!
Keep checking back for event updates!
First Aid: On-site first aid provided by St. John's Ambulance.
Parking: Designated accessible parking is available on Scarth Street, Lorne Street, and 12th Avenue.
Free parking on event day is available at the City Hall parkade or free for two hours at any meter.
Washrooms: Porto-potties and accessible porto-potties are available on site. Visit the Regina Public Library or the Cornwall Centre for fully accessible washrooms, change tables, and flushable toilets.
Food: The Regina Farmers' Market will be in full swing from 9 a.m. – 1 p.m., and we encourage event attendees to support local by purchasing food and goods from the Market vendors and Food Trucks.
There will be a FREE BBQ with beef and vegetarian burgers by the cenotaph from 11 a.m. – 1 p.m.
How to Get Here: Bus stops beside Victoria Park on Victoria Avenue and Scarth Street. Bike Regina is back with their FREE Bike Valet.
Water: Bring your own water bottle and refill in the park
Event Map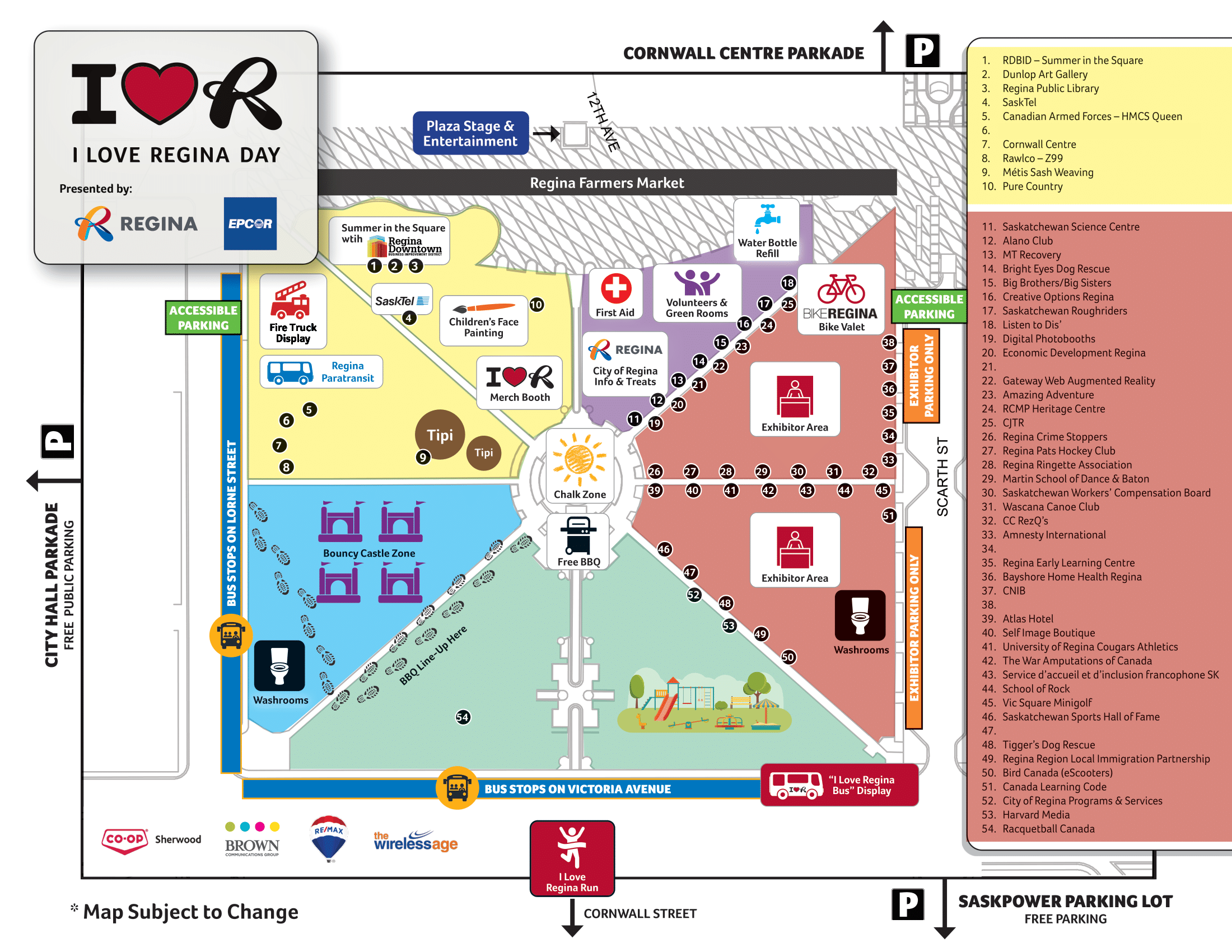 I Love Regina Run & Walk
We are pleased to partner with Run Regina to feature the I Love Regina Run & Walk along with the day's celebrations in Victoria Park!  Let's get everyone moving and celebrate our great city. Movement and fitness are essential to our physical and mental health, so get the whole family together to run, walk, or wheel while showing your love for Regina.
Registration is open! Register for the 2023 I Love Regina Run
Show your Community Pride
To purchase clothing or items, visit the online store at: ilovereginagear.ca Or visit the I Love Regina Merchandise Booth, operated by Cubbon Advertising, on site.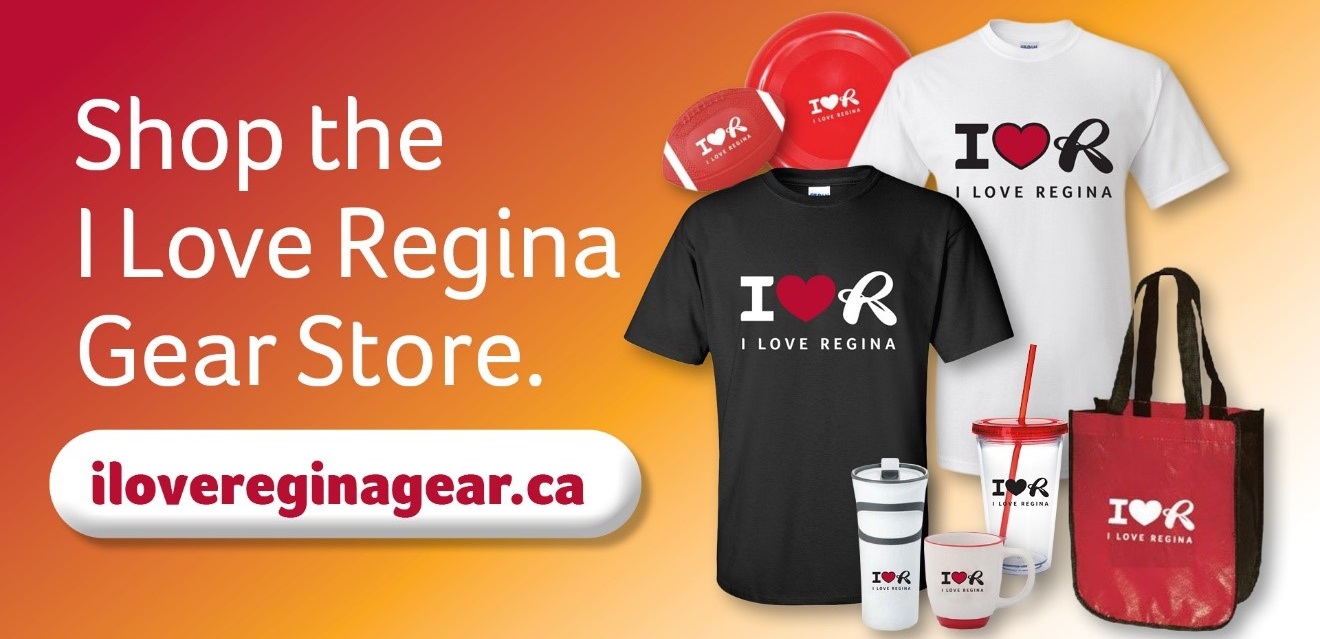 Performing from the I Love Regina Day stage are:
School of Rock Regina
Saskatchewan Roughrider Cheerleaders + Pep Band
Listen to Dis'
Regina Salseros
ThatmanDan
Martin School of Dance & Baton
Buffalo Boys Drum Group
Regina Public Library
Living Skies School of Irish Dance
Partner Organizations, Exhibitors & Performers
We're excited to partner with local businesses and organizations to show off all Regina has to offer!
Summer in the Square with Regina Downtown BID, presented by the Regina Pats!
Regina Downtown Business Improvement District (RDBID) will be offering free games (board games, ping pong, giant Jenga, checkers, chess) for all ages in the park and at the Pavilion. They are pleased to partner with the Regina Public Library and the Dunlop Art Gallery!
Regina Farmers' Market
RFM operates in Regina, Saskatchewan as a popular destination for locals and tourists to connect directly with local producers via Indoor and Outdoor Farmers' Markets and the year-round RFM Online Store. All products at the RFM are made, baked, grown, or designed in Saskatchewan and represent the growing diversity of our city and province. Beginning in 1975, the RFM is proud to continue collaborating with local entrepreneurs and farmers as the original Farmers' Market experience in Regina.
Alano Club of Regina
The Alano Club of Regina is a nonprofit organization that supports people in recovery from addiction. Located at 1165 Pasqua Street, it is the home base of several 12 step meetings that meet regularly. The Alano Club has recently opened Pete's Place, a free resource centre offering information, learning events and fellowship opportunities to those that visit our facility.
Amnesty International
Amnesty International Regina is our local chapter for actively supporting human rights both in our Queen City and around the world. We provide resources and community for new and experienced activists involved in promoting the United Nations Declarations of Human Rights and Rights of Indigenous Peoples.
Amazing Adventures
Welcome to Amazing Adventure. We focus on providing high quality gymnastics instruction to all levels of athletes. We also provide recreational programs to fit the needs and skill level of any child. Our facility is also available for bookings, perfect for school groups and wind-ups!
Bayshore Home Health Regina
Aging at home is a preferred option for many seniors – 96% of Canadian seniors want to remain in their own homes*. Bayshore Home Health is one of the most trusted names in home care, delivering high-quality care to Canadians for more than 55 years. Our team of experts allow clients to remain in the comfort and safety of their own home, ensuring quality of life and independence for aging seniors. Each family works with a dedicated Care Manager to design a customized care plan for their loved one.
Big Brothers Big Sisters Regina
Big Brothers Big Sisters of Regina and Area will be joining the community for a day of fun and games on August 19th. Our organization thrives on uplifting and serving members of the community, so this year Big Brothers Big Sisters of Regina and Area will be on site with Plenko, Giant Jenga, and best of all candy prizes for participants. See you there!
Bike Regina
Bike Regina is a non-profit cycling advocacy group in Regina, Saskatchewan. Its mandate is to make cycling to work and school fun and accessible for all ages and abilities. Make sure to ride your bike to this year's I Love Regina Day, and safely park it wit Bike Regina's volunteers at the Bike Valet!
Brenna Pacholko
Brenna Pacholko is a Metis woman with Indigenous ancestral lines extending to Metis and First Nations communities throughout southern Saskatchewan. Brenna has been teaching for 15 years and is currently an instructor for SUNTEP, the Saskatchewan Urban Native Teacher Education Program at the University of Regina. She teaches future teachers classes in art, science, professional studies and social justice education. She loves beading, getting involved with her community, camping & traveling!
Bright Eyes Dog Rescue
BEDR is a Saskatchewan-based non-profit, registered charity. We are governed by a volunteer Board of Directors and membership base.
We exist to rescue stray, abandoned and surrendered dogs from communities throughout the province. We rehabilitate these dogs in the homes of dedicated volunteer foster families.
Buffalo Boys Drum Group
The Buffalo Boys began as an after-school program at MTMS in 2016, led by Evan Whitestar and now, years later the group has flourished, learning and creating new songs delivered through their own unique drumming. Learning life lessons through experience and teachings delivered as part of the drumming and dancing are honouring the Truth and Reconciliations Reports "Calls to Action" in a real and authentic way. Teachings promote values such as honesty, humility and integrity, and moreover, how one can incorporate these values into their everyday lives.
Canada Learning Code
Come chat with your local Regina Canada Learning Code Chapter team. Learn about our regular workshops that hope to share digital literacy and tools to all people.
Canadian Armed Forces – HMCS Queen
His Majesties Canadian Ship Queen is the Royal Canadian Navy Reserve unit in Regina, SK. HMCS Queen has been active since its reactivation in 1975 and members of the unit have been on operations throughout the world over. HMCS Queen continues to provide training and employment for part-time sailors while providing them opportunities to serve in Canada at home and abroad.
Canadian National Institute for the Blind (CNIB)
Welcome to CNIB Foundation Saskatchewan! We are a dedicated non-profit organization committed to empowering individuals with vision loss in the Saskatchewan region. Our mission is to provide invaluable support, resources, and services that enhance the lives of those affected by vision challenges. Through innovative programs, we strive to foster independence, advocate for inclusivity, and promote equal opportunities for all. Whether it's accessible technology, rehabilitation services, or community engagement events, CNIB Foundation Saskatchewan is here to uplift and transform lives. Join us in creating a more inclusive and compassionate society where everyone can thrive.
CC RezQs Regina
Where best friends begin! Adopt, foster, or donate to help stray dogs in your community!
City of Regina Food & Yard Waste
Learn about your new green cart and what it means for our community.
City of Regina – Parks, Recreation & Cultural Services
The City of Regina offers a wide range of recreation, leisure and aquatic programs for all ages and abilities. Come see what is being offered in your community throughout the year. Learn about the different accessible and adaptive recreational programs offered through City of Regina.
CJTR
Learn about and listen to CJTR Community radio, access memberships archived shows, news and more!
Creative Options Regina
Creative Options Regina (COR) is a for-impact, charitable organization that develops personalized support services for people experiencing disability. Rooted in the philosophy of Gentle Teaching, COR strives to strengthen the fabric of companionship and community for all those we serve. Our innovative approach to care giving is grounded in the recognition and celebration of the intrinsic value of each person.
Cubbon Advertising
Born in 1959 from an expertise in building brands, we offer unique, quality promotional products, excellent service and customer-focused marketing. From our office in Regina, Saskatchewan, we are your premier source for branding solutions!
Digital Photobooths
Digital Photobooths is a top-tier 360 photo booth rental company that takes pride in serving Regina and its neighboring areas.
Dunlop Art Gallery
Create a personalized wearable button that represents your love for Regina Treaty 4 territory, in celebration of I Love Regina Day
Gateway Web Augmented Reality
Looking for a new way to promote your business? Check out these interactive business cards!
Listen to Dis' is Saskatchewan's first and only disability-led, disability arts organization.Through facilitated dialogue and inclusive art practice and performance, we weave new realities for our members and for the broader community – shifting the way people perceive disability and creating understanding of and appreciation for crip art, mad art, and disability culture.
Living Skies Irish Dance
Living Skies Irish Dance is Regina's premiere school of Irish Dance. Committed to community, Living Skies gives back through performances at retirement and care homes and other community events throughout the year. As a dance company, Living Skies creates unique performances which celebrate the history and culture of Ireland and Irish dance. Performances take on a creative style when traditional Irish dance is fused with other styles of dance, and meets contemporary music.
Martin School of Dance
For over 65 years, Martin School of Dance & Baton has set a high standard of instruction in dancing and baton twirling within Regina.  Driven by an inclusive, family atmosphere we strive to ensure that every student finds the pathway that best suits their dance goals.  All while preparing them for a healthy well-balanced life after dance.  We hope you are able to stop by our booth at I Love Regina Day!
MT Recovery
Mental Health, Substance Abuse in a Trauma Informed Safe Environment. We also offer family groups/peer support groups for everyone.
RCMP Heritage Centre
Are you ready for an adventure fit for a Mountie? Then come down to the RCMP Heritage Centre booth at I Love Regina! Celebrate the 150th Anniversary of our national treasure and try on the iconic red serge uniform and take some photos to show off to your friends. And to truly immerse yourself in the Mountie experience, you won't want to miss our state-of-the-art Musical Ride virtual reality experience.
Regina Crime Stoppers
Crime Stoppers is a community-based, charitable organization run by a volunteer Board of Directors. This program is an effective way for members of the community to provide information to the police that assists in solving crimes, recovering stolen property, seizing illegal drugs and locating those with outstanding warrants for arrest.
Regina Early Learning Centre
The Regina Early learning Centre (RELC) is a family and child development centre which works with families to foster the healthy development of children from prenatal to five years of age. Each year, the program serves over 250 low-income families with young children and, through the Regina Early Years Family Resource Centre and the Regina Perinatal Health Network, offers a wide range of programs for hundreds of expectant parents and parents of young children from throughout our community.
Regina Fire & Protective Services
Check out a fire truck, learn about its equipment, and say hi to this friendly team of firefighters!
Regina Open Door Society Inc.
The Regina Open Door Society is a non-profit offering settlement services to immigrants and refugees in Regina.
Regina Pats Hockey Club
Regina Pats Hockey Club is looking forward to another exciting 2023/24 season. Single-game tickets will go on sale Sept. 1, for more information go to www.reginapats.com
Regina Public Library
Join friends from the Regina Public Library to enjoy stories and songs!
Regina Region Local Immigration Partnership (RRLIP)
RRLIP (Regina Region Local Immigration Partnership) supports those supporting newcomers. The RRLIP works with community and key stakeholders to facilitate closer collaboration, create efficiencies and build capacity in Regina for the successful settlement and integration of newcomers.
Regina Ringette
Join ringette and become the best you! The great Canadian winter team ice sport with an outstanding culture of youth development! Fun and excitement for players and parents!
Regina Salseros
Regina Salseros is dedicated to teaching the art of Latin dance in a stress-free, fun, and encouraging environment. Their goal is to inspire dancers while supporting the development of a variety of skills including teamwork, creativity, and self-confidence.
Regina Transit + Paratransit
Explore a City of Regina bus or Paratransit bus. Staff will be on-site to answer all of your transit-related questions!
Renewable Regina
The City of Regina is committed to becoming a renewable, net-zero community by 2050. Games and activities at the Renewable Regina booth will show what this means for you and your community.
Saskatchewan Racquetball Association
At Racquetball Saskatchewan, our purpose is simple: to deliver programs that foster a love of movement in a positive, fun and safe environment. Our Badge Program empowers athletes of all experience levels, from novice to experts, to enjoy playing racquetball through an inclusive and thoughtfully designed curriculum.
Saskatchewan Roughrider Football Club Regina - The Rider Store
Want to come and celebrate Rider football together? The Family Pack is perfect for families looking for an amazing night out that you'll never forget. This pack includes 2 adult and 2 youth tickets for $99! You won't want to miss out - get your tickets now at riderville.com!
Saskatchewan Science Centre
The Saskatchewan Science Centre is excited to participate in this year's I Love Regina Day. We are a non-profit, non-governmental organization that is focused on igniting scientific curiosity in communities across Saskatchewan and inspiring through science and innovation!
Saskatchewan Sports Hall of Fame
The Saskatchewan Sports Hall of Fame (SSHF) is dedicated to recognizing sports excellence, preserving sports history, and educating the public about the role of sports in Saskatchewan's cultural fabric. The SSHF offers interactive attractions that help visitors engage with sports history. Our STEM Interactive Gallery sponsored by SaskTel educates visitors about the science of sport. The SSHF engages students province-wide through in-person and virtual programming. There are currently 540 individuals and teams installed in the Hall of Fame. Collectively they represent 53 different sports and almost 150 communities throughout Saskatchewan.
Saskatchewan Workers' Compensation Board
Saskatchewan Workers' Compensation Board (WCB) focus is Mission: Zero, a call to action and goal for employers and companies to achieve zero workplace injuries, zero fatalities, and zero suffering by families. To help spread the message, we invite you to participate in different activities and games at our booth. Safety swag items will be handed out to all participants!
Sasktel
Swing by the SaskTel booth for games including VR, a Light Speed Wall, and Plinko!
Self Image Boutique
Self Image Boutique, Regina's very own selfie museum! Wondering what you should do in Regina? You've come to the right place! Our 25 different themed rooms are always changing keeping things fresh and exciting. Ring lights are available for use and are included in your admission. The clicker connects to your devices via Bluetooth. Dressing rooms are also available for outfit changes. Come visit and experience the fun and creativity of Self Image Boutique!
Service d'accueil et d'inclusion francophone – SK
The SAIF-SK ensures several fundamental functions within the Fransaskois community. It provides social, cultural, economic and educational referrals for Francophone newcomers to Saskatchewan, in particular by ensuring availability to necessary services and programs. This also sensitizes our community members on the benefits and importance of cultural diversity and immigration, while contributing to the growth of the Francophones in Saskatchewan.
School of Rock
In its fifth year of operation, School of Rock Regina is a music school franchise that teaches 'the stage is the ultimate teacher'. Its revolutionary method for students of all skill levels, aged 8 to 18, combines a weekly private lesson with a weekly group rehearsal working toward a seasonal show every 4 months. Learning in groups has been proven to improve skills and making friendships with other like-minded students keeps students engaged. The school also offers weekly group programs for students aged 4 to 7 as well as a group program for adults. Summer day camps are offered in July and August for ages 5 to 18.
ThatmanDan
Dan Innes is a Regina-based hip hop artist who rhymes under the name 'ThatmanDan'. His music has been featured in local radio and television including Z99, CJTR and CBC Radio. As someone who has had the joy and honour of many stages in the city since 2000 he looks forward to sharing the words one step further as a part of the I Love Regina Day celebrations.
The Atlas Hotel
Regina's coolest independent hotel wants to showcase our love for the sweetest community by giving out "sweet" treats.
The War Amps
Through public support of the Key Tag Service, The War Amps is making a difference in the lives of amputees by providing financial assistance for artificial limbs, peer support and information on all aspects of living with amputation.
Tigger's Dog Rescue
Tigger's Dog Rescue was founded in July 2021, based on a dream to offer something for dogs that through no fault of their own were either abandoned, abused, feral, injured or surrendered and in need of loving and caring homes. We are also advocates for dog abuse here in Saskatchewan. We are a 100% volunteer-based membership.
University of Regina Cougars Athletic Department - Regina Cougars, Regina Rams
For game schedules, purchasing tickets, news and updates, please check out Regina Cougars and Regina Rams!
VicSquare Minigolf
Travel around-the-world in 18 holes at VicSquare Minigolf and have fun in a glow-in-the-dark indoor minigolf experience in Regina.
Wascana Racing Canoe Club (WRCC)
New or experienced, child or adult, we offer canoe and kayak programs in the heart of the city on Wascana Lake. Our kids paddling camps teach all the basic skills to join the Wascana Racing team or the confidence to jump in the family canoe at the cottage. Each camp will end with a fun regatta where paddlers show off all the new skills with canoe club buddies.
Wild Magic Arts – follow wildmagicyqr on Instagram or Twitter
Come to their tent to get your face painted by their talented staff!
Thank-you to our sponsors!
Get Involved!  
By popular demand, we would again like to invite community groups and organizations to participate in the celebrations!  This is a great way to show the public a little about your organization and the programming that you offer.  There are two ways to get involved: 
Exhibitor Booth
2. Performer
For more information and to apply, see the Exhibitor and Performer Application Form HERE!