August 24, 2019
Victoria Park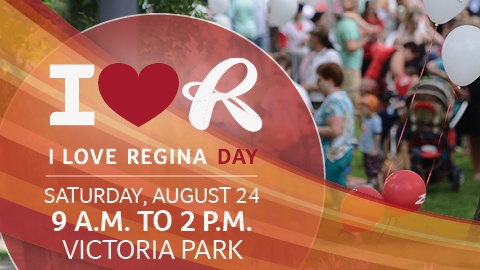 I Love Regina Day is a free annual summer event in Victoria Park celebrating our community and showcasing different activities and organizations that make it a great place to live.
The day is fun for the whole family and a great opportunity for all Regina residents to come out and show their civic pride. I Love Regina Day 2019 will take place on August 24 from 9 a.m. to 2 p.m.
Here's what you can expect from this year's event:
A free barbecue, face painting for kids, bounce castles
Demonstrations by sports organizations and Super-sized board games
Informational displays and activities from different City departments (including vehicles on display from Transit, Fire, and Public Works)
Information and activities from 25 community groups and organizations
BBQ begins at 11 a.m., with serving taking place on the south side of the Cenotaph. Hamburgers, veggie burgers and juice boxes will be provided until 1 p.m.

or until supplies run out.

I Love Regina Day runs concurrently with the Regina Farmer's Market, which is located on the plaza north of the park
Parking is limited due to construction on Victoria Avenue but parking stalls are available in the City of Regina parkade south of 12th Avenue between McIntyre and Smith Streets.
The Regina Downtown plaza has a water bottle refill station to help keep people hydrated
Portable washroom facilities will be available in the park
Come and enjoy the fun! See you there!