December 6, 2022
Queen Elizabeth II Courtyard + City Hall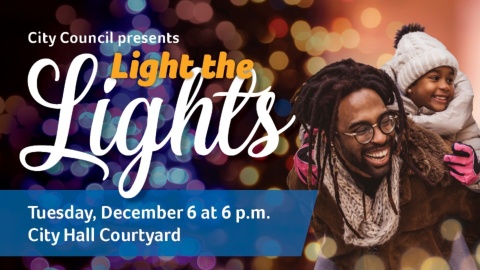 Bundle up your family for the free annual Light the Lights outdoor celebration on Tuesday, December 6. Join City Council in celebrating the winter season by lighting up City Hall and the Queen Elizabeth II Courtyard trees.
Enjoy free winter fun including horse-drawn wagon rides, interactive ice creations, outdoor activities and games, local entertainment, free hot chocolate and treats, virtual coloring contest and, of course, a visit from Santa.
Be sure to dress warmly as this is an outdoor event. There will be limited access indoors.

Tuesday, December 6
6 to 8 p.m.
Courtyard in front of City Hall
2476 Victoria Ave
Smile for the Camera!
This event will be photographed for social media.

By attending this City of Regina event, you consent to being filmed and photographed and waive any right to claim payment or royalties in connection with use of any video or photograph. Use of video or photography is for promotional purposes by the City of Regina and its affiliates.
Artist & Activity Information
Val Halla - Val Halla is a singer/songwriter/guitar slanger from Treaty 4 Territory. She is proud to be Métis, and is sure to dazzle Light the Lights with her winter-inspired songs.
Dickens Yuletide Singers - Sing along to some holiday classics with this local group of talented singers, dressed in full Victorian attire.
Tavria School of Ukrainian Dance - The Tavria School of Ukrainian Dance is proud to be one of the largest and longest-running Ukrainian dance schools in Regina, providing entertainment to people in Southern Saskatchewan and beyond for over 45 years.
Regina Filipino Canadian Children's Choir - The Regina Filipino Canadian Children's Choir brings children ages 4 to 10 together to sing their favourite holiday songs. They've been practicing hard, so don't miss their performance with a very special surprise song!
Regina Bell Ringers at the Knox Metropolitan Church - Throughout the event, you will notice the bells of the Knox Metropolitan Church ringing with some favourite holiday tunes. Thanks to the Regina Bell Ringers for continuing this important tradition since 1976.
Fire and Ice Creations - Artist Peter Fogarty left the culinary profession to become a full-time ice carver with his company, Fire and Ice Creations. See Peter's interactive pieces throughout the City Hall Courtyard, including ice furniture, ice games, and an ice selfie!
Sask Winter Games -

We are so excited to host the Sask Winter Games in Regina in February! Come check out their activation in the courtyard, and say hi to their lovable mascots, Tansi and Ravi!

Growing Young Movers - Growing Young Movers (GYM) is a not-for-profit organization moving to eliminate gaps that currently exist for underserved and marginalized populations in Regina. GYM's intergenerational approach to mentorship employs high school students from Scott Collegiate to work with children and youth throughout the North Central community. GYM aims to build capacity upon the strengths that already exist among the young people within the community. Together, we are "Moving for Change".
Prairie Percherons - Enjoy a free horse & wagon ride around City Hall!
Members of the South Saskatchewan Youth Orchestra - The SSYO is in its 44th season. The award-winning orchestra has fifty members, but its purpose remains the same. With a commitment to excellence, the SSYO offers talented students from all over Southern Saskatchewan an orchestral experience - the opportunity to rehearse, perform, travel, and make lasting friendships with other young people who love music.
Balfour Arts Collective - Balfour Arts Collective is an innovative high school program for students who are passionate about the arts. Dancers, actors, artists and performers build their skills while earning credits towards their high school graduation. They will kick off Light the Lights with an excerpt from their recent musical, Shrek! You can give them a high five or take a selfie with their lovable characters as they mix and mingle throughout the event
Kung Fu Regina - Kung Fu Regina attracts people from many cultures who want the benefits of these incredible arts! We strive to be a family-focused place that is friendly and enriching. Located in the Chinese Cultural Centre, we're the longest-running traditional Chinese martial arts school in the province. We work with schools, teams and special interest groups to promote healthy lives through traditional Chinese martial arts.
Enter Our Virtual Colouring Contest
Children ages 12 and under are invited to participate in our virtual colouring contest in the spirit of the holiday season. There are two pages to choose from!
Choose an image below to download and print this year's colouring page! Fill out the information at the bottom of the page and submit it to win one of two City of Regina Prize Baskets!



Entry Deadline: December 13, 2022
Draw Date: December 14, 2022
Two ways to enter the contest:
Scan and email your colouring page to lights@regina.ca
Drop off your colouring at the Ambassador's Desk at City Hall - 2476 Victoria Avenue
Parking
Parking downtown is FREE after 6 p.m. The City Hall parkade will be closed for this event.
To accommodate the event activities, these adjacent streets will be limited to one lane with limited/restricted parking from 6 a.m. to 9 p.m.:
Smith Street and McIntyre Street, between Victoria Avenue and 12th Avenue
Victoria Avenue and 12th Avenue, between Smith Street and McIntyre Street
Accessible parking is available on the east side of Smith Street at the specially bagged meters.
Know Before You Go
No smoking at this event
Accessible Washrooms and change tables are located inside the City Hall foyer, beside the Henry Baker Hall
We encourage the responsible use of scented products in City Hall; please keep perfumes to a minimum when visiting Santa
Please leave your pets at home; no pets are allowed in City Hall
Minors must be accompanied by an adult
Sponsors
Thank you to our Event Sponsors
Reliance MacKenzie Plumbing & Heating