December 5, 2023
Queen Elizabeth II Courtyard + City Hall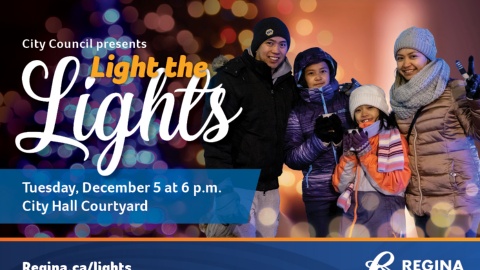 Bundle up your family for the free annual Light the Lights outdoor celebration on Tuesday, December 5. Join City Council in celebrating the winter season by lighting up City Hall and the Queen Elizabeth II Courtyard trees.
Enjoy free winter fun including horse-drawn wagon rides, interactive ice creations, outdoor activities and games, local entertainment, free hot chocolate and treats, virtual coloring contest and, of course, a visit from Santa.
Be sure to dress warmly as this is an outdoor event. There will be limited access indoors.

Tuesday, December 5
6 to 8 p.m.
Courtyard in front of City Hall
2476 Victoria Ave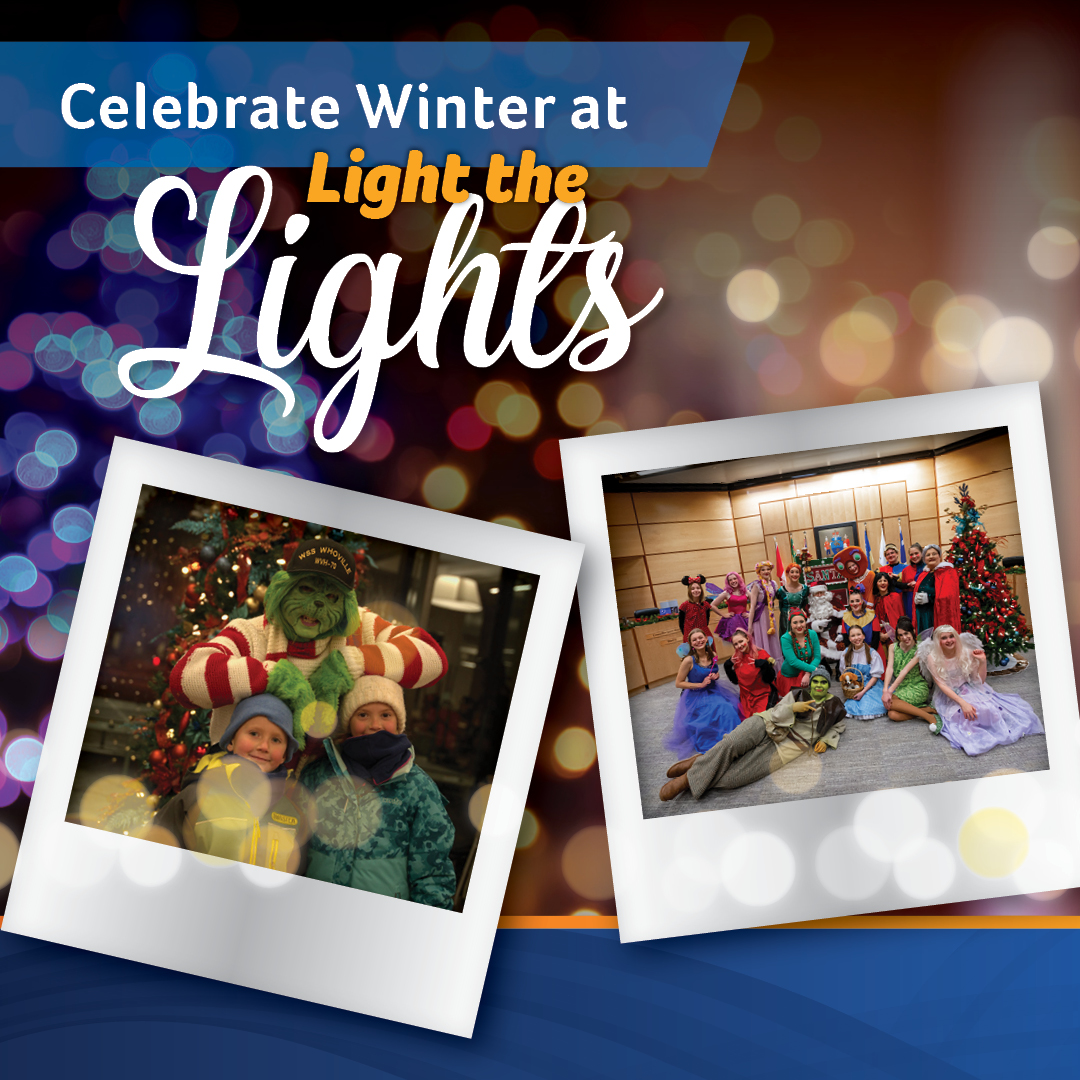 Artist & Activity Information
Balfour Arts Collective

 

- Balfour Arts Collective is an innovative high school program for students who are passionate about the arts. Dancers, actors, artists and performers build their skills while earning credits towards their high school graduation. They will kick off Light the Lights with an excerpt from their recent musical, Beauty and the Beast! You can give them a high five or take a selfie with their lovable characters as they mix and mingle throughout the event

Buffalo Boys Drum Group

 – 

The Buffalo Boys began as an after-school program at Mother Teresa Middle School in 2016, led by Evan Whitestar and now, years later the group has flourished, learning and creating new songs delivered through their own unique drumming. Learning life lessons through experience and teachings delivered as part of the drumming and dancing are honouring the Truth and Reconciliations Reports "Calls to Action" in a real and authentic way. Teachings promote values such as honesty, humility and integrity, and moreover, how one can incorporate these values into their everyday lives. 

Carlo Petrovitch Jazz Trio

  -

The Carlo Petrovitch Trio features long-time collaborators Donny Kennedy (alto saxophone), Jim Gallagher (piano) and Carlo Petrovitch (Double Bass). All of whom are locally based long-time Jazz performers and educators. Each member has performed around Canada with a multitude of groups and venues.

For your pleasure, Carlo's Trio will bring a program of well-known "Jazzy" Christmas Songs" The collection includes arrangements of carols including "Jingle Bells", "We Wish You a Merry Christmas" and Silent Night".

Dickens Yuletide Singers

 - Sing along to some holiday classics with this local group of talented singers, dressed in full Victorian attire.

Fire and Ice Creations

 - Artist Peter Fogarty left the culinary profession to become a full-time ice carver with his company, Fire and Ice Creations. See Peter's interactive pieces throughout the City Hall Courtyard, including ice furniture, ice games, and an ice selfie!

Growing Young Movers

 - Growing Young Movers (GYM) is a not-for-profit organization moving to eliminate gaps that currently exist for underserved and marginalized populations in Regina. GYM's intergenerational approach to mentorship employs high school students from Scott Collegiate to work with children and youth throughout the North Central community.  GYM aims to build capacity upon the strengths that already exist among the young people within the community. Together, we are "Moving for Change".

Prairie Percherons

 - Enjoy a free horse & wagon ride around City Hall!

Regina Bell Ringers at the Knox Metropolitan Church

 - Throughout the event, you will notice the bells of the Knox Metropolitan Church ringing with some favourite holiday tunes. Thanks to the Regina Bell Ringers for continuing this important tradition since 1976.

Regina Filipino Canadian Children's Choir

 - The Regina Filipino Canadian Children's Choir brings children ages 4 to 10 together to sing their favourite holiday songs. They've been practicing hard, so don't miss their performance with a very special surprise song!

Regina Pats –

Regina Pats Hockey Club is enjoying an exciting 2023/24 season! The Pats will be joining in the Light the Lights fun with a games station, autograph signing, photo opps, and of course high fives from our favourite furry friend, K9! Check out their website for game tickets at

www.reginapats.com

Rhonda Donais

– Enjoy traditional Indigenous storytelling while warming up with a cup of hot chocolate! Rhonda is available in the City Hall Cafeteria to share stories about winter in Saskatchewan.

Santa –

Meet Santa, Mrs. Clause, and all his helpers!

Saskatchewan Roughrider Football Club -

Challenge a Saskatchewan Roughrider to a game of corn hole! Players from the Saskatchewan Roughriders will be hanging out with the Growing Young Movers to keep people moving and entertained with some fun outdoor activities.
Tavria School of Ukrainian Dance

 - The Tavria School of Ukrainian Dance is proud to be one of the largest and longest-running Ukrainian dance schools in Regina, providing entertainment to people in Southern Saskatchewan and beyond for over 45 years.
Enter Our Virtual Colouring Contest
Children ages 12 and under are invited to participate in our virtual colouring contest in the spirit of the winter season.
This year's colouring page was created by Regina-based Métis artist, Phyllis Poitras-Jarrett. Phyllis' art celebrates traditional Indigenous worldview and harmony with all sources of life. Animals, plants, insects, land, water, and air hold equal value on earth. Phyllis writes, "We must be mindful of our daily footprints by respecting and caring for Mother Earth… In my art the Spirit animals symbolize the qualities and values that every person has within themselves. Embracing these values will create conditions for our lights to shine bright on our life journeys."
Phyllis' print of the deer, titled, "Kinship & Friendship", highlights the importance of connections amongst all of us. Phyllis reminds us, "We know our connections help each other to live full lives ensuring happiness on our life journeys… We are not all the same, but we know sharing our unique stories is important."
To learn more about Phyllis Poitras-Jarrett and her art, see her website at: https://www.metisspiritart.ca/
Fill out the information at the bottom of the page and submit it to win one of two City of Regina Prize Baskets!
Entry Deadline: December 13, 2023
Draw Date: December 14, 2023
Two ways to enter the contest:
Scan and email your colouring page to 

lights@regina.ca
Drop off your colouring at the Ambassador's Desk at City Hall - 2476 Victoria Avenue
Parking
Parking downtown is FREE after 6 p.m. The City Hall parkade will be closed for this event.
To accommodate the event activities, these adjacent streets will be limited to one lane with limited/restricted parking from 6 a.m. to 9 p.m.:
Smith Street and McIntyre Street, between Victoria Avenue and 12th Avenue
Victoria Avenue and 12th Avenue, between Smith Street and McIntyre Street
Accessible parking is available on the east side of Smith Street at the specially bagged meters.
Know Before You Go
No smoking at this event
Accessible Washrooms and change tables are located inside the City Hall foyer, beside the Henry Baker Hall
We encourage the responsible use of scented products in City Hall; please keep perfumes to a minimum when visiting Santa
Please leave your pets at home; no pets are allowed in City Hall
Please supervise children around the fire pits
Minors must be accompanied by an adult
Smile for the Camera!
This event will be photographed for social media.

By attending this City of Regina event, you consent to being filmed and photographed and waive any right to claim payment or royalties in connection with use of any video or photograph. Use of video or photography is for promotional purposes by the City of Regina and its affiliates.
Sponsors
Thank you to our Event Sponsors


Sunset Tree Co