PROJECT UPDATE – OCT 6, 2023


Work is continuing on the Dewdney Avenue Corridor Revitalization Project and will soon be entering the construction phase. The project experienced some delays and is currently working with the contractor to finalize the proposed construction scheduling and phasing plans. While some preliminary work may occur this year at the railway crossing, construction will primarily take place throughout the 2024 and 2025 construction seasons.


We will provide regular updates and communicate the impacts with affected stakeholders and the public well ahead of the work beginning. We are committed to minimizing delays in commute times and maintaining pedestrian access to businesses along Dewdney.


Upcoming Work:
Installation of protective casing pipe at railway tracks for underground pipes between Lorne St and McIntyre St.
Start Date: TBD (Tentatively late October 2023)
Duration: 4-6 weeks
Updates will be provided once confirmed


Note: Construction activities are dependent on several factors. Timelines could change due to inclement weather and/or other unexpected circumstances. Schedule updates will be provided regularly.
The need to replace aging underground infrastructure provides an opportunity to revitalize the surface, including a new road, sidewalks, lighting, patio space and landscaping. These infrastructure improvements will transform this section of Dewdney Avenue into a more aesthetically pleasing and vibrant corridor for the public to enjoy with improved pedestrian and driver safety.
On March 28, the City held an open house to showcase the new design for Dewdney Avenue. See the presentation materials.
Project Outcomes
Upgrade of underground watermains, wastewater sewers and stormwater sewers to meet the servicing needs of Yards neighbourhood and surrounding areas.
Upgrade of surface works within the corridor including sidewalks, curbs, gutters, medians, pavement structure, traffic signals, transit stops, street lighting, and trees.
Timeline

October 2021 to May 2023: Preliminary design and detailed design
2023 to 2025: Construction (Construction staging and phasing will be developed to minimize impacts to commuters and businesses along Dewdney Avenue)
Project Engagement
Throughout the process, engagement has been a key focus. Below is a summary of the engagement opportunities throughout this project used to identify opportunities, constraints, and priorities for Dewdney Avenue Revitalization. Feedback was solicited on this project through a variety of channels including public surveys, design workshops, one-on-one landowner meetings and information sessions.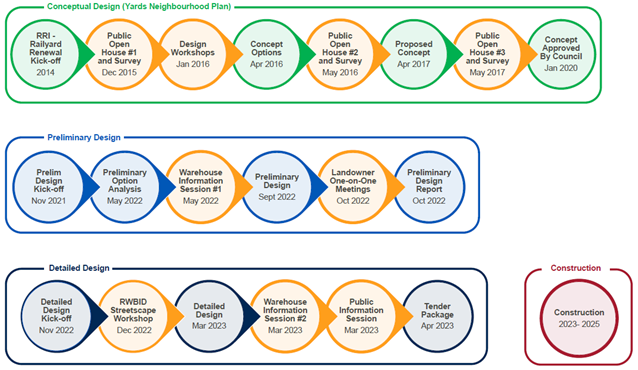 Project Investment
The total investment for the project is $32 million. The Dewdney Avenue Corridor Revitalization Project is a part of the Railyards Revitalization Initiative, in which all three levels of government are providing investment to a total of $33.6 million.
Sign Up to Receive Project Emails
Frequently Asked Questions
Find commonly asked questions and answers about the Dewdney Avenue Corridor Revitalization Project.
Why are you doing this work now?
In 2020, the Yards Neighbourhood Plan was approved by Council, and the policy was adopted into the City's Official Community Plan. The Yards Neighbourhood Plan included enhancing the Warehouse District through the transformation of Dewdney Avenue. In addition, the City's underground infrastructure within this corridor are over 100 years old and due for replacement. This project allows the City to provide appropriate servicing and accessibility to the Yards site to improve its viability and readiness for development.
What public engagement was done to date for this project?
The Yards Neighbourhood Plan is the result of a very extensive community and stakeholder consultation process. Thousands of residents provided input in public surveys, public open houses and planning booths. The Plan included a significant amount of public and stakeholder engagement in 2017/2018 on the conceptual designs of Dewdney Avenue. Further engagement was conducted with the Warehouse District members and stakeholders in 2022 and 2023 through the design phase.
What underground infrastructure is going to be replaced as part of this project?
Aging sewer mains and water supply mains that are beyond their intended design life will be replaced in advance of the pavement works. The size of the mains being replaced will support the current and future needs along Dewdney Avenue as well as future development of the adjacent Yards neighbourhood.
New storm drains and associated storm sewers will also be installed to support the drainage along the roadway.
What surface infrastructure will be rehabilitated and/or replaced as part of this project?
The City will be investing in the complete reconstruction of most of the corridor, including new sidewalks, curbs, pedestrian crossings, medians, pavement, traffic signals, street furniture, lighting and landscaping.

The project is intended to transform Dewdney Avenue from its current state into a desirable landscaped roadway. The project will include enhanced pedestrian-oriented aesthetics to meet the future Yards Neighbourhood and broader City needs of all residents, businesses, and road users, including pedestrians, cyclists, transit and vehicles.
What will the road cross section look like?
Dewdney Avenue will have four lanes with a raised landscaped median. The outer lanes will serve as parking in off-peak hours. There will be left-turn lanes at the signalized intersections of Hamilton Street and Cornwall Street.

A sidewalk, boulevard and public activation space will be provided on the north side of Dewdney Avenue. A boulevard and multi-use pathway will be provided on the south side of Dewdney Avenue. Shade trees will be introduced on both sides of the corridor and along the median as well as new street and walkway lighting.
What will the intersections look like?
Traffic signals are proposed at the intersections of Hamilton Street and Cornwall Street along Dewdney Avenue. Eastbound and westbound left-turn lanes will be provided at the signalized intersections.

The intersections of Lorne Street, Scarth Street and Rose Street are intended to be right-in / right-out only intersections to improve corridor safety and operations.
What will the sidewalks look like?
The project incorporates a widened sidewalk on the north side and a multi-use pathway on the south side, both separated from the roadway by a landscaped boulevard. The project also includes a public activation space along the sunny north side of Dewdney Avenue. The public activation space will be adjacent to existing development, and could include:
Spill out area for patio/café
Space for stopping and resting
Sidewalk sales or Window shopping/frontage
Accessible entries (ramps and transition space)
Plantings (additional trees, planters, etc.)
Furnishings/signs related to adjacent businesses
Bicycle Storage/racks
What will the pedestrian crossings look like?
Pedestrians will be able to cross Dewdney Avenue at Hamilton Street, Cornwall Street, McIntyre Street, Lorne Street and Scarth Street.

Curb extensions at the cross streets will reduce the pedestrian crossing distance and improve pedestrian safety. Accessibility ramps will be provided for both north-south and east-west crossings to aid people of all ages and abilities.
What is the impact to 7th Avenue or 8th Avenue?
During construction both 7th Avenue and 8th Avenue will see an increase in traffic. The City is pre-emptively adding traffic signals at 8th Avenue and Albert St to address increased traffic volumes. Th project will continue to monitor and evaluate traffic patterns on adjacent streets after construction is complete to determine impacts and further potential actions. The project will provide an opportunity for the businesses and the City to identify any issues on both these streets and work on potential solutions.
Is street lighting going to be provided?
Yes, improved street and walkway lighting will be included as part of the revitalization of Dewdney Avenue to increase safety. The lighting will be LED and dark sky friendly.
Will cycling infrastructure be provided?
The south side of Dewdney will include the installation of a temporary multiuse pathway to allow for cycling.
How will you detour traffic and accommodate pedestrians, carpooling, transit during construction?
The project recognizes that the businesses are coming out of the impact of the Covid Pandemic and the Dewdney Avenue Corridor construction will strive to minimize impact to business. The City will work with the Contractor to develop a construction staging plan to maintain commuter routes and minimize impacts to businesses during construction.
How will you communicate with the businesses and public before and during construction?
Project updates will be communicated on Regina.ca and businesses and property owners impacted will be contacted via email or maildrop.
Will the City be renaming Dewdney Avenue as part of this project?
This project is focused on the infrastructure components of Dewdney Avenue. Discussions regarding renaming Dewdney Avenue are ongoing, no update is available at this time.
The City is working to revitalize the City Centre to contribute to community vibrancy, economic prosperity and safety and wellbeing. Regina's five-year capital budget outlines investments to renew street and underground infrastructure in the City Centre, including Dewdney Avenue, 11th Avenue, Saskatchewan Drive and Scarth Street. These projects will beautify streetscapes, transform transportation networks and improve pedestrian safety to accommodate future growth in the downtown. The goal is to attract more people and businesses to live, work, visit and invest in the City Centre!