Improvements are completed through the Residential Road Renewal Program (RRRP). This program strives for 85% of roads to be in fair or better condition and improves about 20 km of roads per year by rebuilding, repairing and resurfacing residential roads through a dedicated budget every construction season. For efficiency, the program collaborates with the City's water, wastewater and stormwater utility to integrate improvements to the underground infrastructure.
Each year, locations and treatment options are selected based on:
Age and condition of both road and underground utility infrastructure
Traffic volumes and proximity to schools, businesses or transit routes
Budget
Other planned projects
Treatment Options
Surface: A surface treatment helps extend the life of roads in good condition by repaving the asphalt surface which slows deterioration. It also provides a smoother, safer road for drivers, cyclists and pedestrians when applied on a poor condition road. One street can be completed in one week.
Rehabilitation: A rehabilitation treatment Improves the condition of sidewalks, curbs and gutters or portions thereof, and repaves the asphalt surface on fair or poor roads. Rehabilitations may improve some underground utility, such as storm drains and sewer manholes. These projects are completed in an average of 5-6 weeks.
Rebuild: A rebuilt treatment reconstructs concrete sidewalks, curbs and gutters, as well as the road structure and surface. Rebuilds are coordinated with the renewal or replacement of underground utilities such as water and sewer mains, sewer and drainage connections, storm drains and sewer manholes as required. These projects vary in length, but average completion is 15-20 weeks.
Since the development of this program, the City has invested nearly $93 million and improved more than 167 km of residential roads.
The image below illustrates the cost of each treatment option and the average cost to complete a city block for each treatment option (based on 2019 data).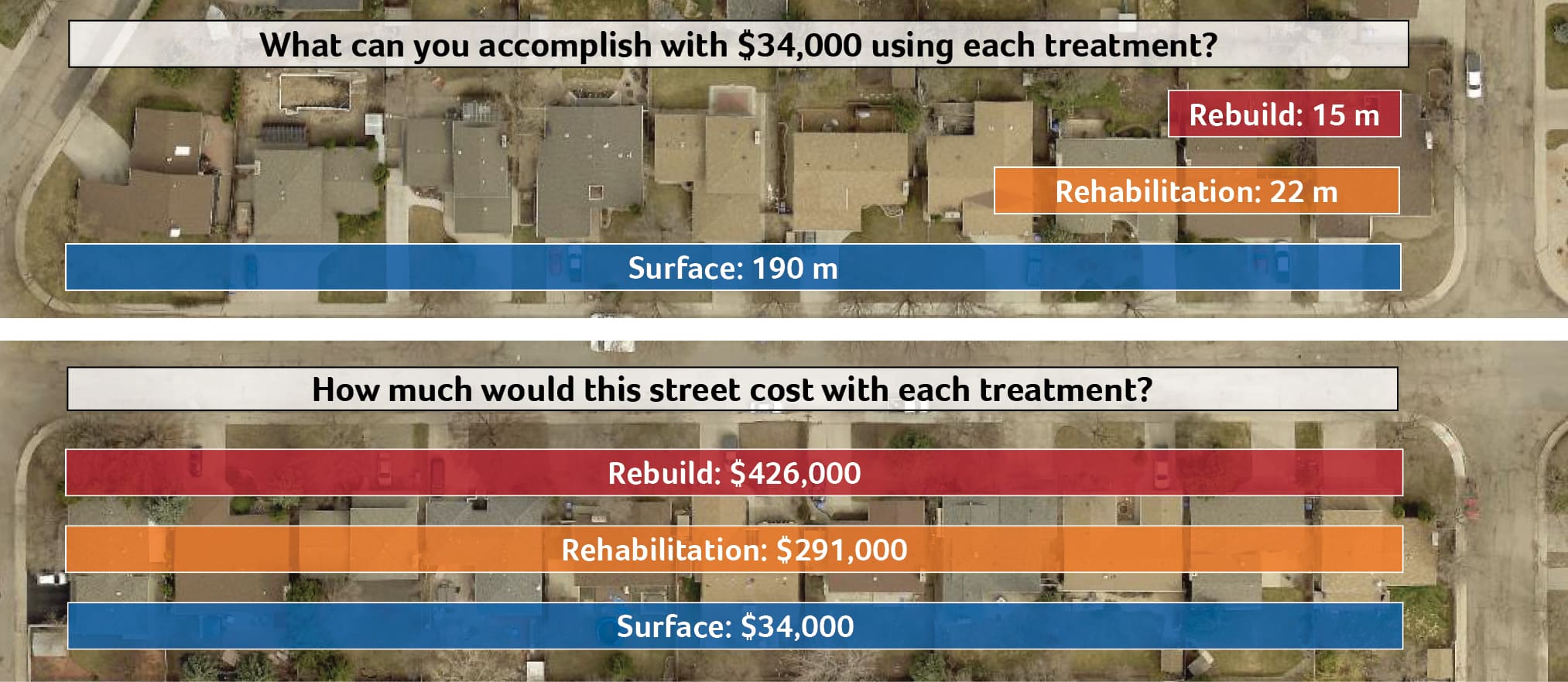 In addition to projects completed through the RRRP with its annual budget, the City of Regina also allocates a separate budget for routine road maintenance operations, such as pothole patching, sidewalk repair, and maintenance paving. The allocation of this budget is based on severity of conditions.
The RRRP was established in 2015 to improve the condition of existing residential roads. Through comprehensive assessments of the road structure and surface, sidewalks, curbs and gutters, as well as underground infrastructure, this program identifies the appropriate treatments required on roads throughout the city to improve the overall health of the network.
In 2019, City Council approved an additional approach to help address the backlog of poor roads by focusing only on a road surface treatment. This approach allows the City to pave more poor residential roads every year, improving drivability and user experience.